Omni-channel Marketing with Autoresponderz
Irrespective of the industry in which your organization is operating, you also have to reach
prospective customers on their terms.

Unified brand experience with Omni-Channel Marketing
Bridge the messaging-technology gap of your brand with omnichannel marketing strategies.
Our SMS messaging service has flexible plans and a set of easy-to-use advanced tools that lets your organization create the perfect marketing message to reach out to all your prospective and existing clients. This is the perfect marketing strategy for creating a huge impact.

Create Drip Email marketing campaigns with multiple followup sequences on cold leads. Automate your complete lead journey from cold to hot. create multiple rules trigger multiple followup sequences on different different events to nurture more leads.

Voice Broadcasting (Tele Marketing)
Our super easy-to-use voice broadcasting Automation software allows you to create customised voice based drip marketing campaigns. Trigger various follow-up sequences in just no time and yes, everything automated, saving your time & cost as well.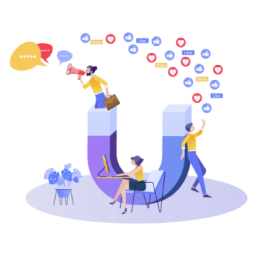 Automate your Digital Marketing Campaigns. 85% of users want to discover a brand's personality through social media. One of the fool-proof ways to reach your target audience and increase your brand.

Provide connected experience across the Communication Channels
Offer a coherent and connected experience to your customers by employing the perfect omni channel marketing strategies.
Traditional Marketing
Traditional marketing can help you to generate more sales. Reach your audience through in-person contact and general media advertising.

Digital Marketing
Promote your brand and content on digital channels to increase brand awareness, drive traffic, and generate leads for your business.
Telemarketing
Use telemarketing and start reaching your customers over the phone to inform them about all your high-quality products and services.
E-mail and SMS Marketing
Send commercial messages – such as sending advertisements, requesting business, or soliciting sales – to groups of people via email/SMS.
Connect your apps and automate workflows
Best-in-class software and tools for digital marketing.
Upload Contacts
Upload all your vital contacts on a single platform to simplify outreach.
Drag-and-Drop Editor
Use drag-and-drop editor and e-mail marketing tools to create bespoke campaigns.
Call Recording
Use data and insights from call recordings to make informed decisions.

List Segmentation
Use list segmentation to help your business with higher closing rates.

Opt-in Messages
Offer your prospective customers the option of choosing to hear from you.

Missed Call
Use missed call feature to engage your prospective customers effectively.
SMS & Email Templates
Use industry-best SMS/Email templates that match your brand messaging.
TTS
Use industry-best tools for text-to-speech conversion with Autoresponderz.
Reply (Acknowledgement)
Use automated reply services to acknowledge customer requests seamlessly.
Scheduling
Schedule your campaigns effectively for boosting efficiency and results.